Hey guys welcome back to my blog..
Are you a student, single man or woman or are you just that one person that is just starting up on your own and there's obviously alot on your mind to think about.. Well I'm making it so easy for you by giving you a list of Kitchen essentials for your new home, which is one less thing to think about :-)
My friend recently got a place not too far from central London after few years of living with her parents; and she asked me a very worrying question she had in mind, she said "Sai what are the basic things I should have in my kitchen since you've been living on your own for several years". So I thought I'll share with all my readers what I advised my friend to get to be able to start up at her new home.
We all know that feeling when you move into your new home and you basically want if not all, but most things to be brand new when you move in. Here are a few Kitchen essentials for new starters that would give you a rough idea on what to purchase or shop around for.
Firstly carry-out your research; you don't wanna buy cheap things and end up chucking them away after 3 months of use, so my suggestion is to get the best value for money items. The price might shock you but it is definitely relevant and worth spending on longer lasting products.
OK lets start from the very basic stuff:-
Kitchen utensils such as plates, knives, forks, spoons, pots & pans:- Now depending on how much cooking you will be doing, I'll recommend to get sets of these utensils as you'll find that getting them in singles actually costs more. So for example a set of cutlery that includes 4 of each of Knife, forks, tablespoons & teaspoons.
Cost is circa £29.99
A set of
Pots and Pans
depending on size so for example in the image below is a decent size for a starter and costs circa £80 to £95. Now this might sound a bit pricey but what you need to understand is the fact that it is non-stick, which is very essential in cooking.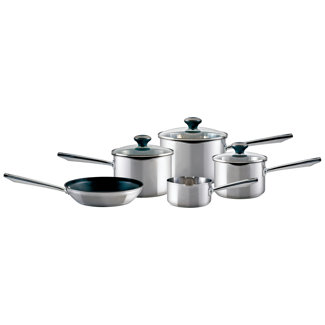 Mixing bowl-
Plastic, glass or metal mixing bowls will do, its very versatile and can serve you for a number of things such as beating, mixing, massaging flour etc.
Plastic
Glass
Graters
- Amazing for grating, shredding your veggies such as carrots, cheeses, iceberg lettuce etc
Whisk
- Very useful for beating eggs, sauces, gravy etc. They come in different types such as the electric and Vector whisks below.
Electric
Toaster-
Now if you are a bread lover like me, a toaster should be your best friend. That early morning toast with butter/jam & a nice cuppa hmmmmm yes a toaster should be on your list
Chopping board
- used to cut, dice, slice veggies, fruits, and anything that requires you to use a knife to cut. They come in different shapes, colours and sizes.
Plastic
Wood
Small Appliances:-

Blender
- Blenders have a multitude of uses such as chopping, puréeing etc. It can also be used for making smoothies, shakes, juices etc.
Microwave
- What is a Kitchen without a microwave, I don't think I can survive without one lol, its benefits are amazing from heating up cold food to cooking ready meals to defrosting frozen food.
Kettle
- Now if you live in the UK, I don't think you can actually survive without a kettle in the kitchen. Yes I said so lol, from boiling water in a short time to boiling water to make your teas, coffees, cappuccino etc to making soups, porridge etc.. yes the UK is a really cold country so you'll find one of these in every corner to go to.
Those are the basic things needed in a start up home; once you move into a bigger house then you can start looking at getting bigger items to suit your needs such as gas cooker, dishwasher, Fridge Freezer, washing machine, coffee machine, bread maker etc.. These are basic white goods that should be included in your tenancy if you live in the UK; but as things change, some landlords might not provide these so it will be up to you to get them yourself. Remember the major appliances can be second-hand; you don't have to get brand new if you cannot afford it. There are also different schemes like the "buy now pay later"scheme available in most appliances shops so carry out your research and make use of the schemes.
Let me know how you get on guys, and good luck in your new home :-) O'toodles